The In-Mould Labelling (IML) technology makes possible myriad of decorating options for brands than any other existing printing methods on packaging containers. Thereby, unanimously preferred by B2C companies for it's higher marketability quotient and greater wear resistance of the product that remains unabraded even during regular use.
We engage a series of Sumitomo Demag SE130EV, SE180EV & SE260EV, the highly advanced all electric injection moulding machines renowned for its ultra-precision quality and high throughput production lines for manufacturing various range of plastic products such as thin wall plastic containers, air-tight storage boxes. In-mould labelling of thus produced containers is powered by Wittmann Robots which enables us to deliver the product as a pre-decorated item in one stroke.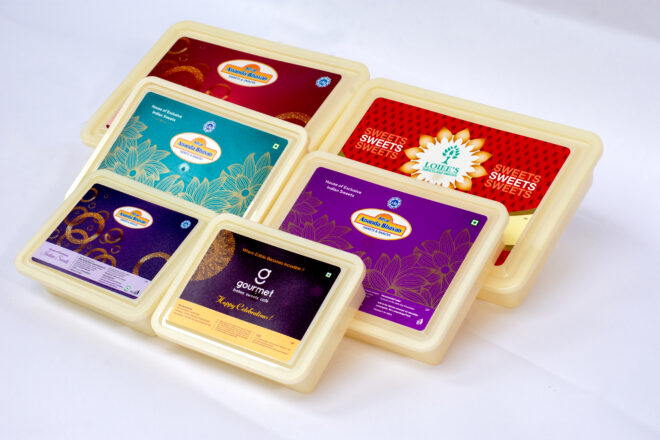 During the process of IML for injection moulding products an IML label is inserted into the mould.  The injected molten polymer fuses with the in-mould label and the end result is a pre-decorated lid or box thus produced. 
The plastic containers manufactured under our in-house brand name GLOWARE finds prominence in processed food industry, super markets, restaurants & take away outlets. The popular market sizes that we manufacture are 250g, 500g, 650g, 750g and 1Kg capacity with regards to rectangular containers and 10 Oz & 16 Oz volume for round containers. However, the sizes are completely customizable. Depending on end usability the containers are available in either transparent, opaque white, cream, yellow or any colour of choice.
Usage of premium food grade raw material ensures maximal standards in our quality & hygiene.