Paper bags are modern classics that garnered popularity for being organic and versatile in nature. We proudly endorse the fact that our parent company 'Global Polybags Industries Pvt Ltd' is one of the BRCGS accredited paper bags manufacturing unit in India. Certified by the BRC (British Retail Consortium) authorized certification body, SGS United Kingdom Ltd. Only to be the sixth license holder of brand reputation compliant, food grade, safe & sustainable paper bags to be precise. Adding value to the above, our company also holds the most coveted FSC (Forest Stewardship Council) Chain Of Custody certification. The FSC COC logo, considered the Gold Standard of forest certification by major environmental groups goes on to indicate that our paper bags are manufactured from responsibly harvested forests.
Environmentally conscious consumer behaviour have channeled popular brands to endorse paper carry bags. Aesthetically appealing quality of multi-colour printed paper bags aids in brand positioning and marketability of the product. Hence paper bags have gained momentous presence amongst popular B2C brands in recent times.
Thus our 100% sustainable paper bags manufactured with 40% recycled fibre is one of our highly valued products.
The paper bag variants manufactured by us ranges from Block bottom paper bags, SOS paper bags, Multi-colour printed bags, Plain brown bags, Solid colour bags to Twisted handle and Flat handle printed paper bags.
Customarily, we manufacture unparalleled quality products by engaging the best-in-class GARANT TRIUMPH 5 QT, block bottom bag making machine. Followed by the LINAFLEX NL flexographic inline printer which brings about exquisite finesse to our flat & twisted handle paper bags. Reputably introduced to the market by WINDMÖLLER & HÖLSCHER, a world market leader in printing, converting and extrusion machines for the packaging industry. Consistent development by GARANT and the use of SERVO technology has led to a reduction in set-up times of up to 50% on format changes in comparison to other block bottom bag machines.
The machine is popular across the world due to its high speed & ultra precision production lines combined with simplified operation which is ideal for the production of large-format block bottom bags and carrier bags.
The format range offered by GARANT TRIUMPH 5QT are as follows,
Bag width:        180 – 460 mm
Bottom width:   70 – 230 mm
Cut-off length:  360 – 770 mm
Roll width:          up to 1370 mm
Roll diameter:    up to 1300 mm
LINAFLEX NL flexo inline printing presses endowed with perfectly coordinated coating and lamination systems could turn any package into an ambassador of the brand. As many as 6 color decks can be used as per the designer's motive of choice and printed onto the packaging with superior print quality & vibrancy. Format range of LINAFLEX NL;
Printing decks:  up to 6
Printing width:  700/900/1070/1200/1400 mm
Repeat length:  250 – 850 mm
Machine output speed:  300 mts/min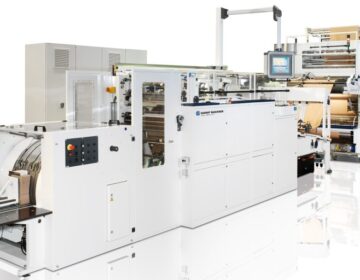 Proficient manufacturing of our printed handleless paper bags also known as SOS bags is achieved through highline Jiangsu Fangbang ZD-FJ11+T, a fully automatic roll-fed paper bag machine with inline printing upto 4 colours. By seamlessly connecting flexo printing, tube forming, tube cutting and bottom forming, this machine efficiently conjoins printing with bag making. Thus, serving to be cost effective by down sizing equipment investment and labor. Varied range offered by this machine is as follows;
Paper Roll Width: 370 – 890 mm
Paper Thickness: 50 – 150 g/m2
Bag Body Width: 110 – 280 mm
Bag Bottom Size: 60 – 150 mm
Printing Repeat Length: 230 – 800 mm
Max Production Speed: 200 bags/min
High production rate at various size range has made this machine natural choice for application in food industry.
Yet another high performance machine from the Jiangsu Fangbang group ZD-QFJ21S manufactures our square bottom paper bags without & with handles including twisted and flat. Machine implements steps including handle making, handle application, tube forming, tube cutting and bottom forming within a fully automated system.
Format range offered by ZD-QFJ21S includes;
Paper Roll Width: 630 – 1510 mm
Paper Thickness: 80 – 170 g/m2
Bag Body Width: 220 – 540 mm
Bag Bottom Size: 80 – 254 mm
Printing Width: 1460 mm
Printing Repeat Length: 230 – 800 mm
Handle Rope Height: 110 – 120 mm
Handle Rope Diameter: 4 – 6 mm
Handle Patch Length: 190.5 mm
Handle Patch Width: 40 – 50 mm
Max Production Speed: 120 – 150 bags/min